Protecting Your Building Envelope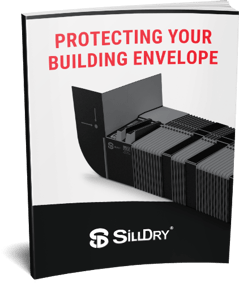 Water intrusion destroys the integrity and life span of a building. When exposed to water, an improperly sealed building envelope allows water to penetrate through to the structural, integral components. Possible consequences include the weakening of structural supports, corrosion of metal parts, and development of mold associated effects.
Download our latest resource, Protecting Your Building Envelope, for a look at how SillDry can help architects, builders/developers, and contractors combat water intrusion. In it, we review:
The challenges regarding proper sealing.
The drawbacks associated with traditional flashing solutions.
Why SillDry is the best possible solution.
Fill out the form to the left to download this resource.