Who We Are
SillDry® was the product of a collaboration between two innovative minds—Kieran McMahon and Joel Glickman. The combination of their extensive industry experience and knowledge resulted in a water intrusion solution that revolutionized flashing systems throughout the construction industry.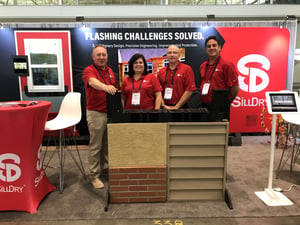 For over three decades, Kieran McMahon has worked in the construction industry, building a reputation as an expert in exterior cladding systems. His technical advice is regularly sought by architects, contractors, builders, distributors, and countless other industry professionals. Throughout his career, McMahon repeatedly encountered buildings with water intrusion damage that easily could have been prevented by the incorporation of better door and window flashing. His drive to find a more effective and efficient solution eventually led him to partner with co-founder Joel Glickman.
McMahon and Glickman met by chance on a job site. McMahon's description of the source of water damage in buildings sparked Glickman's interest and imagination. With McMahon's insight into the construction industry and Glickman's creativity and enterprising nature, the duo combined their knowledge, skills, and tools to bring about the future of window and door flashing—known today as SillDry.
What We Do
SillDry addresses all concerns regarding traditional sill pan flashing for building construction. The patented one-piece design allows for easy installation with only a single point of attachment on either side of the opening. Key features include:
Smart Accordion Technology® to facilitate installation in openings ranging from 18 inches to 12 feet (custom sizes are also available)
Pre-sloped sills to eliminate the need for shimming, constructing, and integrating a sloped plane
Built-in 7.5-degree slope and precision-engineered drainage channels to allow for the quick removal of water from the structure
Raised dam to keep water from entering the building structure
Construction that accommodates overlapping of the drainage plane

Our Connections to K'NEX and the Rodon group
Apart from SillDry, Glickman also has connections to K'NEX® and The Rodon Group. Both demonstrate his talent as a designer and engineer.
In 1992, he introduced K'NEX to the world for the first time. His invention of the toy product resulted in more than 300 awards in creativity, precision, and STEM leadership, and a global movement toward its use in university architectural and engineering curricula.
At The Rodon Group, Glickman heads a team of thermoplastic engineering and injection molding experts. The company is a leading provider of high-volume, custom plastic injection molding solutions as well as SillDry's manufacturing partner.
Our Memberships With Distinguished Organizations
Our memberships in various construction, business, and regulation organizations allow us to share and access a massive pool of industry knowledge and experience. We are proud members of the following organizations:
American Institute of Architects, Philadelphia Chapter (AIA Philadelphia)
Association of the Wall and Ceiling Industry (AWCI)
Building Industry Association of Philadelphia (BIA of Philadelphia)
Home Builders Association of Bucks/Montgomery Counties (HBA)
International Code Council (ICC)
Central Bucks Chamber of Commerce
Chamber of Commerce for Greater Philadelphia
To learn more about how our flashing product can benefit your building construction project, contact us today.