When purchasing windows for new or existing homes, consider selecting an energy-efficient option. Inefficient windows make up 25-30% of energy use in residential housing, resulting in steep heating and cooling bills throughout the year. You can save a great deal of time and money by learning about the design features that make a window energy-efficient.
Considerations for Choosing Energy Efficient Windows
While many homeowners will choose windows with certain desirable aesthetic elements, builders and contractors must consider both aesthetics and efficiency. Several important factors include frame, glass, design, and installation.
Frame
A proper frame goes a long way in preventing heat and cold transfer. Aluminum frames conduct temperature fairly easily, making them a risky choice for energy efficiency. Wood, which is less conductive, is a popular choice for energy-efficient window frames. Other material options include:
Aluminum
Vinyl
Wood
Wood-clad
Glass
The appropriate glass both prevents heat from escaping and insulates against heat from UV rays. Single-paned windows lose a great deal of heat. Double-paned, argon-filled, low-E windows provide better insulation and less energy wastage.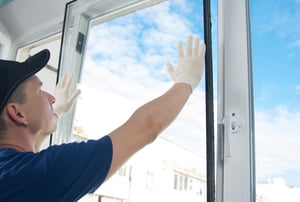 To qualify for ENERGY STAR® status, windows must have low numbers in two metrics: U-value, which measures resistance to heat loss, and Solar Heat Gain Coefficient (SHGC), which measures the amount of heat entering the home through the glass. Lower numbers in both of these areas indicate a higher level of energy efficiency.
Design
While there are many varieties of window design, certain styles are particularly energy-efficient:
Double-hung windows area highly efficient option. However, this style of window is less ideal in extreme climates, where the sliders are more likely to experience air intrusion.
Casement windows seal themselves off during periods of high wind, making them a popular choice in windy climates. It is worth noting, however, that casement windows require regular hinge and seal maintenance to continue functioning efficiently.
Picture windows are available in many shapes and sizes, however this design type generally doesn't open. As picture windows can be quite large, glass choice and gas-filled interiors are particularly important considerations.
Installation
No matter how costly and well-designed, a window will not provide adequate energy efficiency if it is installed incorrectly. Avoid contractors who attempt to install windows using large amounts of sealants or expanding foams. While this may appear to help the window fit properly during installation, these materials are not waterproof, and an overdependence on them can lead to future costly repairs.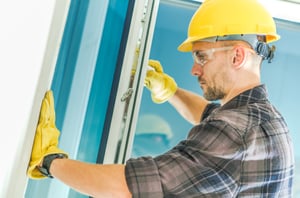 Instead, best practice calls for pre-installation waterproofing. A skilled contractor will take the extra time required to ensure windows fit properly and perform well for years to come.
Additionally, and vitally, do not underestimate the importance of smaller aspects of window installation, such as proper caulking and flashing. While they may seem minor, caulking must be carefully applied, and flashing carefully installed, by a detail-oriented contractor. Otherwise, easily preventable problems such as water leaks can significantly damage building integrity. To avoid future issues, follow the manufacturer's recommendations while installing air sealing, windows, and flashing.
How SillDry Helps With Energy Efficiency

SillDry is the ideal material for all climates, including those with harsh environmental conditions. Composed of thermoplastic olefin (TPO), SillDry is particularly resistant to many common hazards. This means that, unlike metal sill pans, SillDry will not crack or warp during extreme temperature fluctuations.
Its immense durability puts SillDry ahead of the pack when compared to common metal models. SillDry can withstand degradation from dirt and bacteria, and resists damage from:
UV exposure
Moisture
Extreme temperatures
Sever weather impacts
In addition to its longevity, SillDry is quick, affordable, and easy to install. As the first fundamental step of protection, this product sets homeowners up to continue to save throughout the life span of their windows.