With closed schools, work-from-home orders, and statewide shutdowns, millions of Americans are staying close to home and focusing our attentions on what's most important in our lives: our families, our health, and our businesses that support them. We are bred from an innovative and determined culture, already prepping for the reopening of our economy and coming up with inventive solutions for doing more with less.
It's no secret that the pandemic has exacerbated challenges unique to the building industry. Builders, contractors, and developers hear the same questions being passed around: How do we keep our workers safe while maintaining project deadlines? Can we social distance on a job site? Should we sanitize tools and building materials? Is our supply chain secure? How do we "virtually" collaborate on plans and specifications? The questions roll on and on…
Perhaps now more than ever, the industry is looking for ways to simultaneously save time and money, while building safer, healthier buildings, protected against the elements.
This objective is at the heart of SillDry, and what we strive toward every day.
What is SillDry?
Water intrusion can cause significant damage to the building envelope, which can impact the long-term health and durability of the building. The term building envelope refers to the outermost layer of the building that creates a barrier between the inside of the structure and external forces such as wind, weather, moisture and humidity, and more.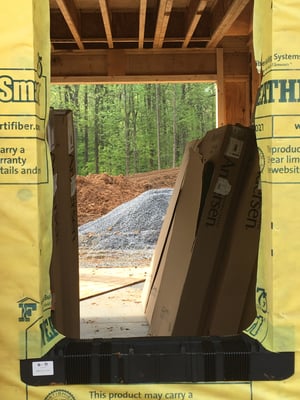 When exposed to water, a poorly sealed building envelope lets water in that will damage internal structural components. The consequences of this water exposure may include the weakening of structural supports, corrosion on metal parts, and the development of conditions favorable for mold and mildew—all of which ultimately lessen the long-term viability of the building, as well as cause adverse health effects to the building's occupants.
SillDry, an innovative flashing product, offers the ideal solution for redirecting water coming in while reducing the damage and securing the integrity of your building envelope. The unique design of this sill pan is also very budget-conscious and can help save you money on your next project. This article discusses some of the budgetary benefits SillDry offers.
Cost-Saving Factors of Choosing SillDry
Durability & Protection
For architects, engineers, builders, developers, and contractors, the durability of SillDry makes it an ideal choice for protecting against water damage. This enhanced protection also guards builders and contractors against potentially costly litigation that can occur when problems develop with a building's structure after project completion. SillDry is designed to last a lifetime, manufactured in the USA from thermoplastic olefin (TPO), the same long-lasting material used to produce car bumpers and rubber roofs.
Reduced Labor & Fast Installation
SillDry's innovative design enables installation in seconds, drastically reducing labor needs. The sill pan is self-leveling and requires no assembly, which significantly reduces installation times as compared with what it takes to install standard flashing solutions.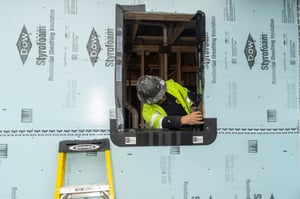 SillDry features a single-piece, expandable design. There is no need for time-consuming assembly or cutting procedures before installation. With a built-in slope, shimming or planning is only rarely required. There are only two points to connect, which makes installations fast and intuitive. Any member of your crew, regardless of experience, can easily handle installation operations, which frees up more experienced crew members for more advanced tasks.
Code compliance is also built into the design, with SillDry meeting and exceeding all IRC and IBC building code requirements.
Reduced Material Waste
SillDry's single-piece construction offers a zero-waste solution, customized to your project. The smart-accordion, expandable design extends to fit any door, window, or other building openings. This ensures that there will never be leftover trimmings or other waste to dispose of after installation.
Cross Compatibility
With its smart accordion technology, SillDry can fit all standard sizes of windows and doors from 18 inches up to 12 feet, as well as any custom size needed. Its versatile design is compatible with membrane drainage systems, new residential and commercial construction, wood framing, and steel studs. SillDry is compatible with brick, stone, siding, stucco, and any other exterior cladding system.
Full Seasonal Installation
SillDry can be installed in all weather conditions, reducing the risk of schedule disruptions and costly setbacks due to weather conditions. SillDry's durable construction means that installations can be completed in all temperatures and weather conditions.
SillDry Cost Calculator
Given the many ways in which SillDry's unique design can save you time and money on your project, you may be wondering just how much. Check out our convenient cost calculator to find out exactly how much SillDry can save you on labor costs for your next project.
Seal Your Building Envelope With SillDry
SillDry is a result of decades of expertise in advanced construction techniques. Traditional flashing is simply too vulnerable to water intrusion, so our founders took flashing to the next level. To learn more about protecting your building envelope from water intrusion, check out our latest resource, contact us, or request a quote today.